OUR PRODUCTS SUPPORT THE CATERING BUSINESS
100%

CONVENIENCE

0% IMPROVISATION
ADVANTAGES OF IQF FREEZING
Very quick exposure of meat to extremely low temperatures does not affect the cell membranes of muscle fibres, and thus does not change their cell structure. As a result, the meat retains its excellent taste and nutritional value.
In addition, each portion of the product is individually frozen, the burgers do not stick together and the minced meat does not clump. This makes it easier to manage raw materials in gastronomy, because you can use as much product as needed at a given moment, and leave the rest in the freezer.
You can be sure that the meat is fresh and of the highest quality

You do not need to defrost, so you reduce the time needed to prepare your meals

You limit food losses and optimise costs

You get a quantifiable product with a repeatable shape and weight

You only use as much as you need at any given time

Thanks to individual freezing of portions, you manage your storage space better.
SEMI-PROCESSED PRODUCTS
BEEF
BURGERS 100%
FINELY MINCED MEAT WITH A COMPACT, UNIFORM CONSISTENCY

HIGH PRESSURE FORMING TECHNOLOGY

POPULAR WITH BOTH ADULTS AND CHILDREN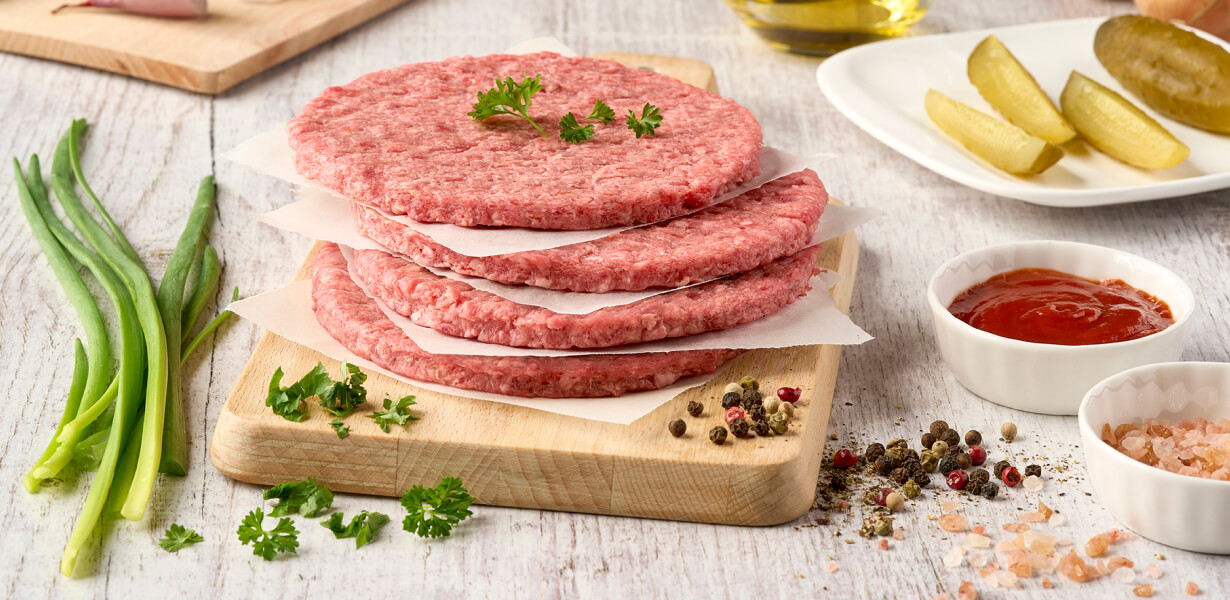 The classic 100% beef burger is an excellent base for many dishes. Here the quality speaks for itself – no additives, no spices and no preservatives, only (or rather, as much as!) the natural taste and aroma of meat that you can feel in every bite.
BEEF CONTENT
100%
WEIGHT
45 g
80 g
90 g
100 g
175 g
180 g
200 g
RECOMMENDED WEIGHT OF COLLECTIVE PACKAGING
5,4 kg
FAÇON BOUCHÈRE
PREMIUM BURGERS
PALPABLE TEXTURE OF COARSELY MINCED MEAT

LOW PRESSURE FORMING TECHNOLOGY

A MULTITUDE OF CULINARY USES IN GASTRONOMY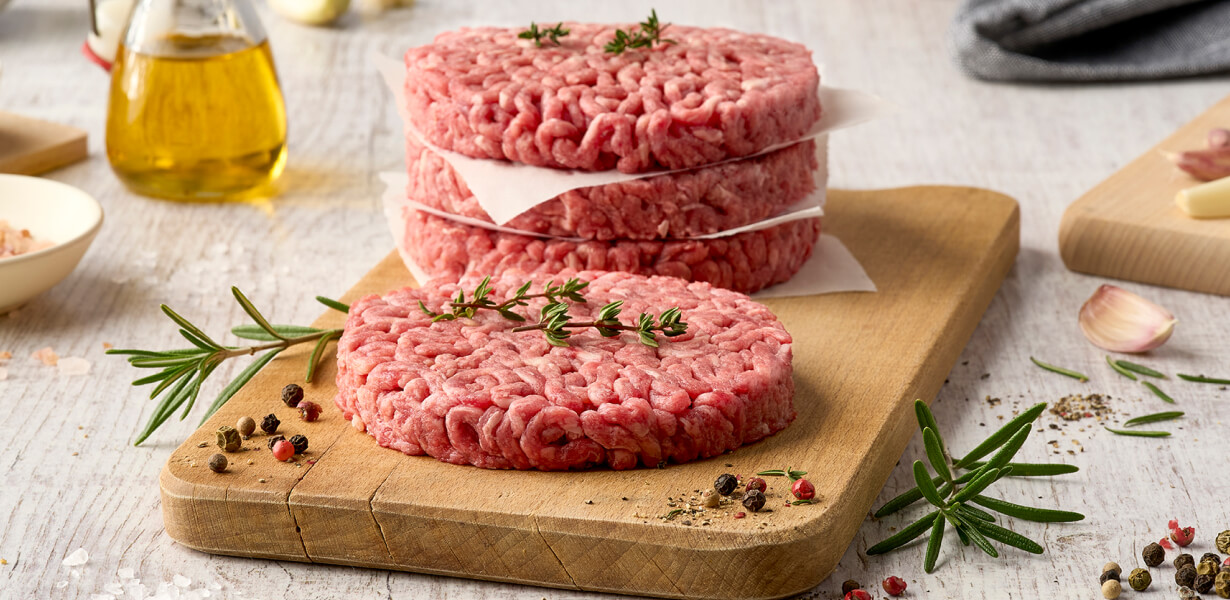 Façon Bouchère in French means "butcher's style". And that's what our flagship product tastes like; like a hand-minced and hand-formed homemade burger. Its unique texture makes it juicy inside and crunchy on the outside after frying or grilling. You can feel the characteristic texture of the meat when you eat it. Perfect for both gourmet restaurant dishes and premium burger places
RUMP STEAKS
100%
WEIGHT
RECOMMENDED WEIGHT OF COLLECTIVE PACKAGING
2,4 kg
RUMP STEAKS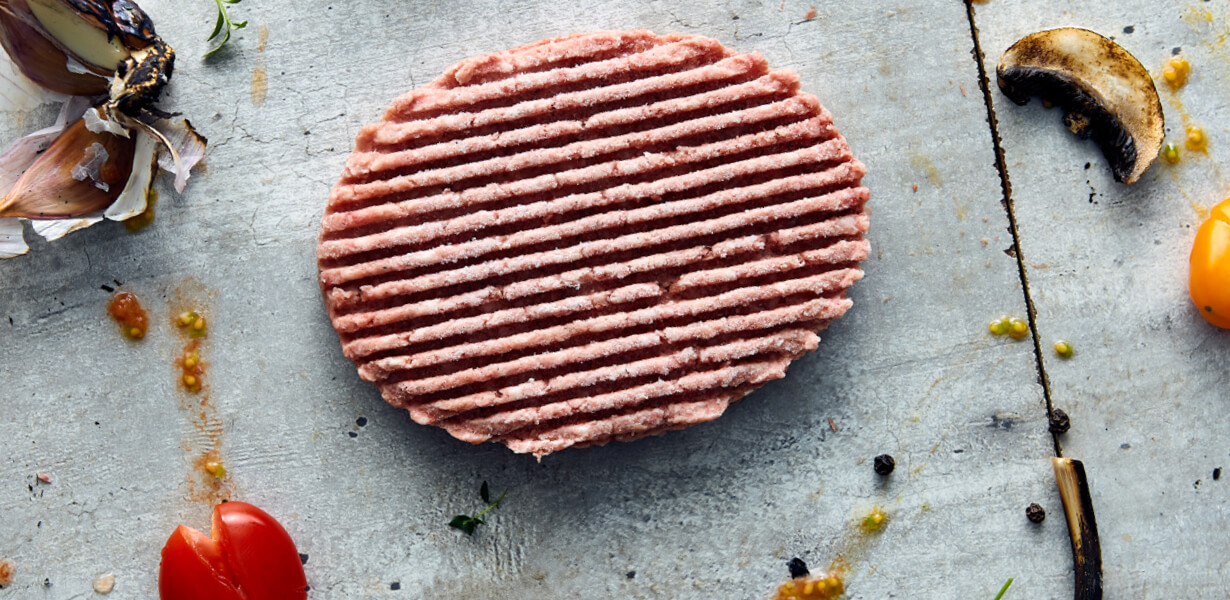 Beef rump steak is distinguished by an oval shape and a grooved surface with characteristic stripes. On a plate, it can be used as a "cutlet" for chips or puree. It is enough to put it on a hot frying pan or grill, and in a few minutes we will get a ready base for many full-value meals. Rump steaks with an admixture of soy (flavoured and natural with a meat content of 80%) apart from their excellent taste have one more advantage – they are a more economical solution.
Flavoured Variants
You can choose the flavour variant or reach for the classic beef rump steaks - in our offer you will find everything you need to scale-up your business!
NATURAL BEEF RUMP STEAKS
Beef Content
100%
80%
51%
Weight
80 g
100 g
RECOMMENDED WEIGHT OF COLLECTIVE PACKAGING
5,4 kg
ORIENTAL RUMP STEAKS
Beef Content
80%
60%
51%
Weight
80 g
100 g
RECOMMENDED WEIGHT OF COLLECTIVE PACKAGING
5,4 kg
ONION
RUMP STEAKS
Beef Content
80%
60%
51%
Weight
80 g
100 g
RECOMMENDED WEIGHT OF COLLECTIVE PACKAGING
5,4 kg
BURGERS
WITH SALT AND PEPPER
ROUND SHAPE PERFECTLY FIT TO THE ROLL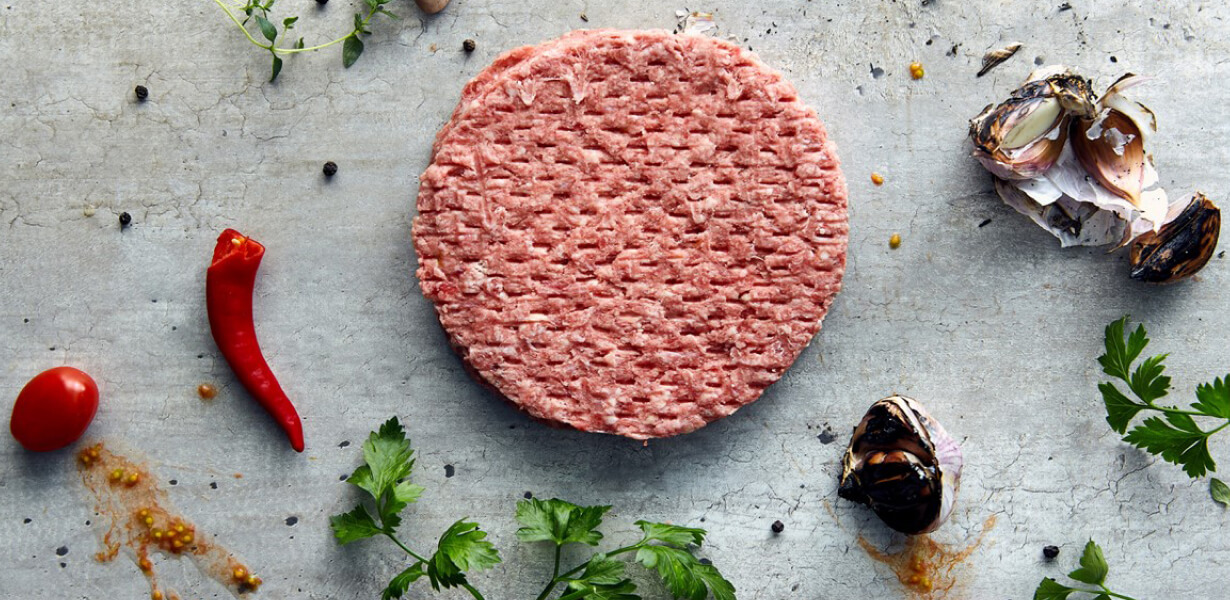 Good beef only needs salt and pepper, which is why we offer classic beef burgers with an admixture of basic spices. The addition of salt and pepper emphasises the value of natural meat and brings out the depth of its flavour. The seasoned burgers are fully ready for further thermal processing on the grill or pan.
BEEF CONTENT
98%
Weight
45 g
80 g
90 g
100 g
180 g
RECOMMENDED WEIGHT OF COLLECTIVE PACKAGING
5,4 kg
MINCED MEAT
LOOSE TEXTURE: CONVENIENT PORTIONING AND QUICK FRYING

PUT ON THE FRYING PAN WITHOUT THE NEED TO DEFROST

RECOMMENDED FOR SPAGHETTI BOLOGNESE OR CHILLI CON CARNE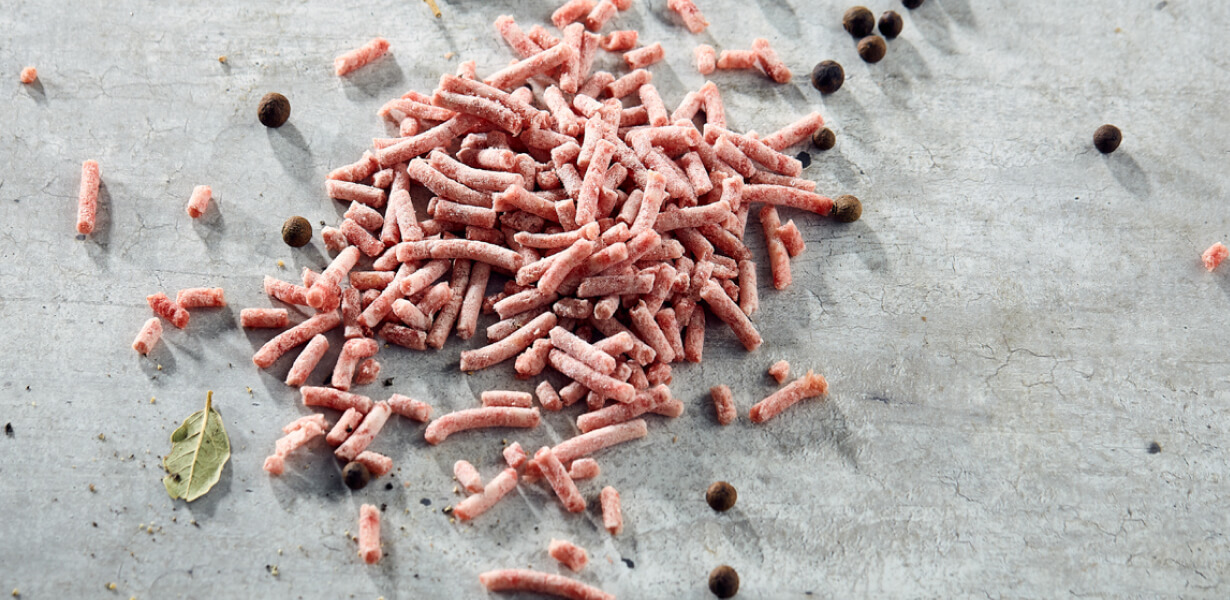 With IQF, each ribbon of minced meat is individually frozen. This is a very convenient solution – all you need to do is to put the frozen product on the pan, the meat does not clump together as in the case of chilled minced meat. Preparing meals is faster and easier. You can sprinkle it as a topping over pizza or casserole. It is also a great base for meat sauces and street food dishes.
The diameter of the minced meat
Packaging weight
RECOMMENDED WEIGHT OF COLLECTIVE PACKAGING
MEATBALLS
QUICK PORTIONING AND PREPARATION

GREAT FOR FRYING OR BOILING IN WATER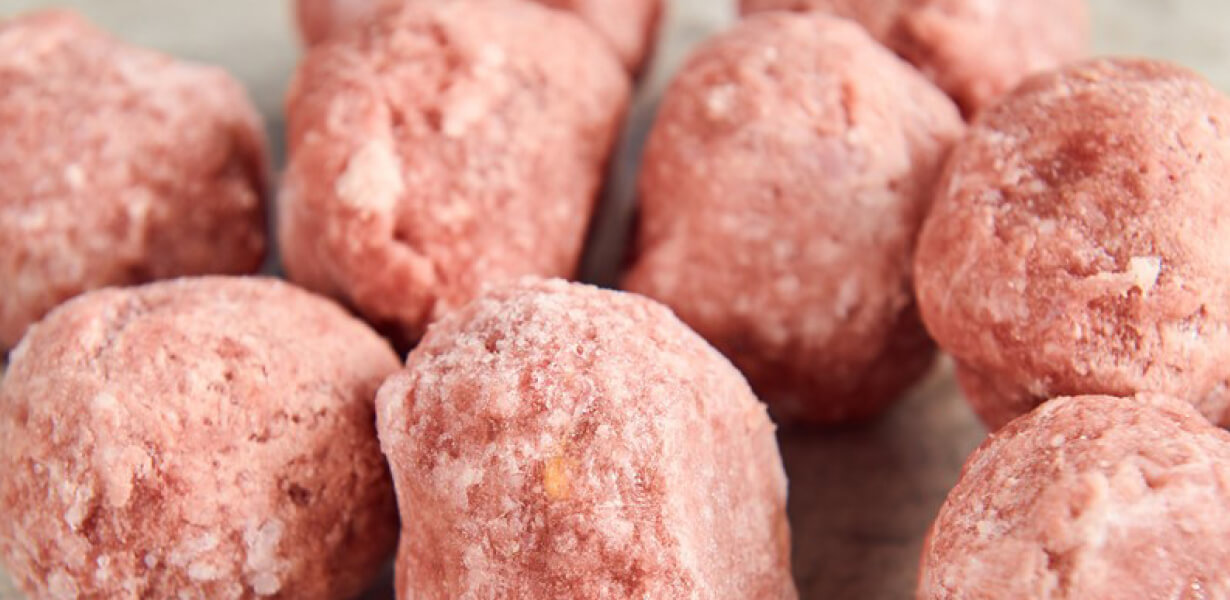 Frozen beef meatballs are easy to prepare and serve – they can be pan-sautéed or boiled in water. The individual freezing method prevents the meatballs from sticking together in the package and you can defrost as much as you need to prepare a particular dish. Our meatballs go perfectly with mashed potatoes, sauces and pasta.
Beef content
Packaging weight
Bulk packaging weight
CUTS
RUMPS
We offer hind quarters and pistol hind quarters, composed of several muscle cuts. The quality of the rumps depends on the level of fat and the amount of muscle tissue.
FRESH MEAT
Our offer also includes fresh meat from our own cutting – roast beef, sirloin, entrecote, bone-in brisket, shank, bavette (flank), brisket, triceps muscle, infraspinatus muscle, supraspinatus muscle, neck, short loin and many others.
We make sure that every cut of the raw meat is used, which is why we also sell offal, being the basis for many tasty dishes.
WE PRODUCE - YOU SELL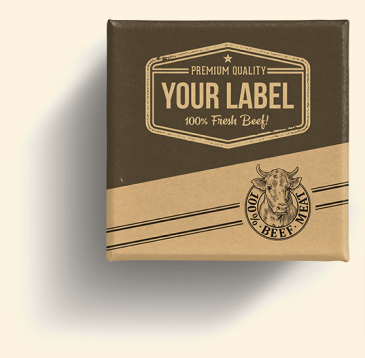 Create your own product with us from scratch and sell it under your own brand. As part of the private label service, you can choose the shape, consistency and weight of the product. Our products are delivered in branded, ready-to-distribute packages.
Private label
CONTACT US
Are you looking for a trusted supplier of beef products? Contact us and we will be happy to answer all your questions and create an offer dedicated to your business.
+48 539 600 190
How can we help you ?
Customer service
Cattle purchase
Other
Do you have any questions about our products or cooperation? Send us a message and we will contact you as soon as possible.
GO TO THE PARTNERS SUBPAGE
Are you a cattle breeder? Call us if you are looking for a trusted partner for permanent cooperation.

+48 501 123 675
GO TO THE BREEDERS SUBPAGE
Skip to content